I found some great ones of Alex from earlier in October. We went to a pumpkin patch nearby, went on a hay ride, picked a pumpkin, climbed on hay, etc. We didn't get
any
good pics of all the kids together, but I managed to get really cute ones of both Alex and Miriam.
Here's Miriam, loving the world. Doesn't she look so much older than just-turned-two in this pic?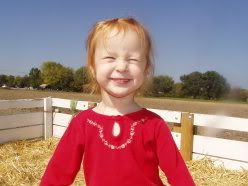 Alex loves all things on wheels--cars, bikes, trucks, motorcycles. His favorite toys are cars (big and small) and keys (preferably real ones). No wonder he looks so at home during the hay ride: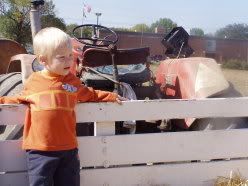 I found this pic of Miriam from several months ago and it's notable for two reasons. 1) It shows the lovely dress
Jena
made for her. 2) She looks so darn cute.
Alex has taken to running away. He's not mad or upset, he just likes to walk. So he puts on a "ba pa" and goes on his way. Recently he's gotten Miriam into the act and since they learned to open the doors they don't even take the time to find backpacks, they just take any opportunity they can to make a break for it. Here's a pic from Alex's first time "running away."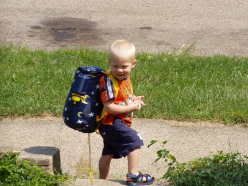 And finally, a lovely picture of my Monster Baby--Dinosaur Noah. (He's pictured with the amazing Dinosaur Simeon, who is destined to be his best friend, because, well, both their Moms say so!)

In other news, I working on my first Waldorf doll. I got a kit from
Joy's Waldorf Dolls.
Either I'm getting better at sewing or Joy has the best instructions ever b/c I'd heard that these dolls were a PITA to make, but it's coming along really nicely so far. I made the head tonight, which I'd been dreading, but it really looks good. I even gave the little guy a nose.
The doll is for Alex for Christmas. I planned on the doll being a boy, but I keep saying "she" in my head while making it. Perhaps it'll be a very short haired girl baby? May Alex can decide.
I'll post pics soon (I even took some in progress ones), but since our USB port isn't working (ARGH), it's a PITA to upload pics. Blah.