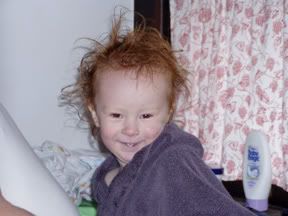 Just found this funny old picture of Miriam. It's rather appropriate for this day, as she's a bit, um, overgrown in the hair department. I don't trust my skill with the blades and Christmas (and my sister's stylist skills) are too far away...I think I may actually take her to one of the kiddie hair cut places. I can't even believe myself, but there you have it.
All 3 of my kids are asleep right now--at 3 pm. Miracles do happen.
Off to cut out a cool dress for Princessa using
painting red rhinos
fabric and an
Ottobre
pattern. My first Ottobre pattern. Will post pics if my hubby fixes our USB port.