Picture Pages, Picture Pages
Here are the three in all their Hallowe'en glory.
Look at this big baby! Can you blame me for not slingin' him too often? He weighs approximately 1/2 a ton at 7 months old. Phew!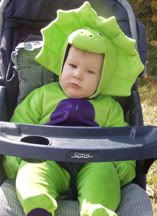 Alex has recently decided that he doesn't like pictures very much. Perhaps I take too many? It's a shame, too, because he has got the cutest dimples I've ever seen (yes, I know I'm biased). This is his I-don't-
want
-another-picture-Mommy! look. Enjoy:
Senor Tucan, in all her (his?) glory. Yes, Miriam think she's in charge of the world: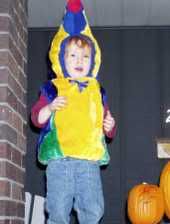 Finally, the four of us (man, I onlyl realize how house-wifey I look when I see these pics. Oh, well. I guess that was my costume):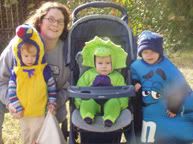 I suck at uploading and editing pictures. It takes SOOOOOOOO long. I wish I knew the tricks of some of these picture-heavy bloggers. I envy them--big green time.