Noah entered the world at 10:43 a.m. on Saturday, March 26th.
Here's a pic. Note the weight.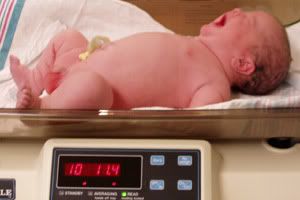 It's not a joke--10 lbs, 11 oz. All the stats--21 1/2 inches long and 15 inch circumference on the head.
The actual surgery was the worst experience of my life--no exaggeration. I was told by numerous Drs and nurses that mine was not the typical c-section. The uterus was twisted, fibroids were in the way and they had trouble getting the bleeding to stop. However, I have a wonderful baby boy and that will certainly outweigh any negative.
Typical section or not, I have new respect for women who have undergone one--esp. after laboring for hours as well! Phew!
Here's another pic from just a few minutes ago. He had just nursed. It's amazing to me that you don't really need to *teach* babies to nurse--you may need to help them nurse better, but they certainly are born knowing what to do.