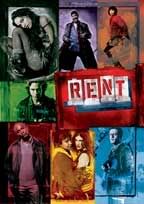 I couldn't stand waiting anymore and went to see the movie on Saturday night. I seriously had goosebumps during parts of it ("Seasons of Love", The Life Cafe Scene, "Take me for what I am"). I didn't love, love, love it, but I would definitely reccommend it to people who loved the play. I'll buy it when it comes out on DVD, too...so take that for what it's worth. I'm not feeling up to writing much of a review, but I will say I agree with much of what Roger Ebert says..and you can read that
here.
(Except, since I am a lover of the play, I'd give it 4 stars.)
I have the flu and feel yucky. That's why this isn't longer. Perhaps I'll edit later.