Noah James is one month old today. He is the size of a three month old. Miriam seems to really like him, but she doesn't like sharing me or her daddy. Any time I sit down to feed Noah, she cries.
We went to the playground ("kaygown!") yesterday. Miriam climbed to the second level of the equipment and then decided that she didn't want to go down the slide. AND she didn't want to climb back down. So there she was crying for me to get her and there I was slinging the baby, trying to figure out how I was going to get my fat butt up there to rescue her. Luckily, our friend Pete came along and climbed up there and slide down the slide with Miriam. SAVED. I love our church friends.
Here are pics from the playground: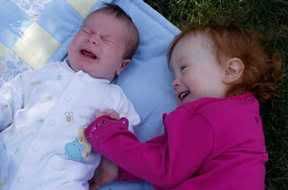 Notice how thrilled Noah looks with his sister.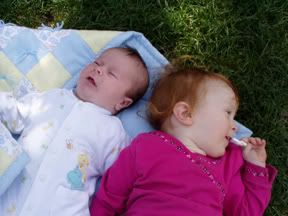 I have more pictures, but apparently I've lost my mind and forgot to upload them. Oh, well.
An incidental Pete note: His name is Pete Potter and when Miriam was playing on the Teeter Totter the other day, she was singing "Peter Potter" over and over. Funny girl.