Well, my doctor still hasn't scheduled a section, she wants to give this baby as much chance as possible to turn. I've done all sorts of strange things like staying on my hands and knees, lying inverted on a board, putting peas behind the baby's head, etc...nothing has worked so far. I'm not giving up, but I honestly think this baby is too squished in there to move. He's probably big (around hi-8 lbs) and then I have all those fibroids.
I have another Dr's appt on Thursday, so we'll see what she says then.
Miriam and I made Whoopie Pies this weekend. She loves putting ingredients into the mixing bowl. She loves mixing, too, but that results in batter being splattered literally all over the kitchen, so she doesn't get to do that too often. Here's a pic of Mama's little helper: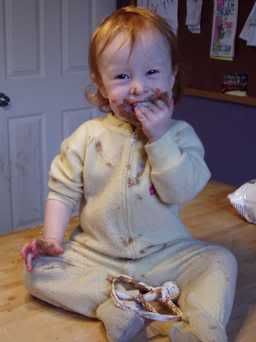 Here is the recipe for the whoopie pies:
INGREDIENTS:
1/2 cup shortening
1 cup white sugar
2 eggs
2 cups all-purpose flour
5 tablespoons unsweetened cocoa powder
1 teaspoon baking powder
1/2 teaspoon salt
1 teaspoon baking soda
1 cup milk
1 teaspoon vanilla extract
3/4 cup shortening
2 cups confectioners' sugar
1 pinch salt
1 teaspoon vanilla extract
--------------------------------------------------------------------------------
DIRECTIONS:
Preheat oven to 350 degrees F (180 degrees C). Grease cookie sheets.
To Make Cookies: In a large bowl cream 1/2 cup of shortening , 1 cup sugar and 2 egg yolks. (Set egg whites aside for filling.) NOTE: If you don't want to use raw egg white in the filling, leave it out. Substitute 1 whole egg for the 2 egg yolks in the cookie recipe so you don't end up with leftover whites!!
In a separate bowl sift together 2 cups flour, 5 T cocoa, 1 t baking powder, 1/2 t salt, 1 t baking soda. Add to other mixture alternately with milk, beating well. Add vanilla at the end.
Drop by large spoonful on greased pan. Bake for 10-15 minutes. Remove to wire rack and cool completely.
To Make Filling: Beat together 3/4 cup shortening, 2 cups confectioners' sugar, 2 egg whites and dash of salt till light. Add 1 tsp. vanilla.
To assemble: Spread the flat side of one cookie circle with a spoonful of filling. Top with another.
Here's another pic of my big belly. My husband thinks it's very strange to post it on my blog. I told him he needs to visit more blogs of pregnant women. Or at least a pregnancy list online...he'll see more nakie bellies than he's ever wanted to see! ;)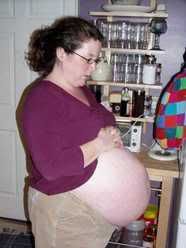 Here's to the baby coming before Easter!!